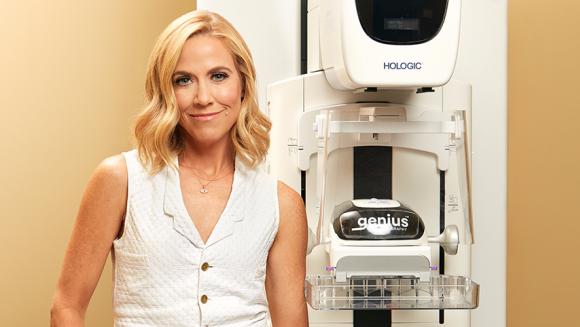 In June 2016, Hologic signed a partnership with nine-time Grammy® award-winning singer, songwriter and breast cancer survivor Sheryl Crow. As national spokesperson for the Genius® 3D Mammography™ exam, Crow's mission is to educate women about the importance of early detection and the benefits of the Genius® exam. 
"I'm a breast cancer survivor, I'm 10 years out." Crow told People magazine in a video shortly after partnering with Hologic. "It was a mammogram that discovered my ductal carcinoma." She was 44, "the picture of good health," and had no family history of the disease. She was shocked. Breast cancer, she says, can strike anyone, but because of new treatments, if you catch it early your prognosis is excellent.
"Early detection saves lives — it's that simple," said Crow. "Women need to be advocates for their health, and that means getting annual mammograms starting at age 40 and taking advantage of the best, and most accurate, technologies available. I opted for a Genius™ exam because early detection is what saved my life — it's a woman's best chance at survival, and it's a chance we all deserve."
Crow was stage 1. She had a lumpectomy in February 2006 and seven weeks of radiation therapy. A decade later, between recording and caring for her two boys, she is doing all she can to let women know about the importance of annual mammograms, early detection and the Genius® 3D Mammography™  exam.
The Genius® 3D Mammography™ (a.k.a. Genius® exam) is acquired on the Hologic® 3D Mammography™ system and consists of a 2D and 3D™ image set, where the 2D image can be either an acquired 2D image or a 2D image generated from the 3D™ image set.
The Genius™ exam is only available on the Hologic® 3D Mammography™ system.